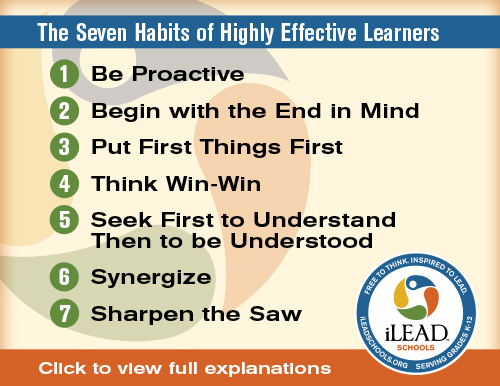 At iLEAD Hybrid Antelope Valley, we believe there is an implicit and an explicit curriculum to teach.
Beyond the required skills and knowledge to be imparted, we place equal emphasis on the social and emotional development of every one of our learners.
Each learner has a facilitator assigned to them. The facilitator handles both academic advisement and social-emotional learning.
As an independent learning center and as a part of the iLEAD family, we are working to develop the Seven Habits of Highly Effective Learners across our entire culture.
Our directive and corrective policies are a natural reflection of these habits, and we challenge each learner to adopt these habits in their daily lives as self-directed and self-disciplined learners and future leaders.
It takes all of us working together!
At iLEAD Hybrid Antelope Valley, we believe anything worth achieving cannot be accomplished alone. It takes all of us – learners, facilitators, staff and families – working together cooperatively to provide for the successful education of our children. We should all aim to work together to develop students' unique talents and life skills and to instill a lifelong passion for learning.
To this end, we all agree to the following goals:
As iLEAD Hybrid Antelope Valley facilitators and staff, we will do our best to…
provide a quality instructional program for each learner
provide a safe learning environment
provide programs and activities that respond to the developmental needs of each learner
guide learners in developing self-discipline, self-respect, and self-confidence to participate at iLEAD and in their community as responsible members through the use of the seven habits
As iLEAD Hybrid Antelope Valley parents, we will do our best to…
monitor our children's academic progress and goals on a regular basis
provide our child with suitable learning conditions at home
encourage 20-30 minutes of independent reading daily
provide cooperation and support with appropriate corrective direction
communicate proactively with our children's facilitators, office staff, and administration as necessary
As iLEAD Hybrid Antelope Valley learners, we will do our best to…

understand and master the seven habits
ask questions and tell the facilitator when work concepts are not understood
work to our fullest potential
complete projects
have required supplies available at home and at the studio
actively participate in learning studio discussions and workshops
contribute to a positive studio environment